Fake News: "Alex Jones' Flagship Pirate Radio Station Shut Down"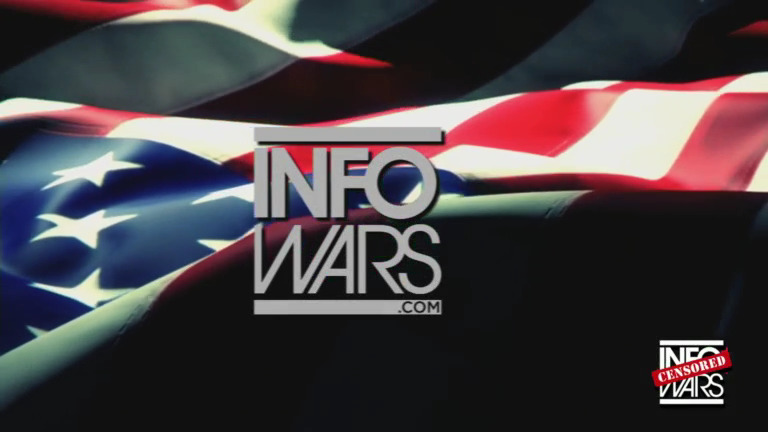 August 16, 2018 – Alex Jones is being blamed for having had a pirate radio station in Austin Texas raided and shut down.
Although Infowars is in no way connected with a pirate radio station in Austin Texas, the MSM implies Alex Jones has shady business relationships.
The Mainstream Media is ramping up their attacks against Alex Jones and Infowars by claiming that we have incited violence against the media and of being complicit in domestic terrorism. Could a false-flag attack against the media be pinned on Infowars to further their efforts to shut Infowars down entirely?
Watch the full Alex Jones Show from August 16, 2018 show below to get the full picture of the situation in The Alex Jones Show.
RT ran with the fake news agaisnst Alex Jones and the made up allegations of him having a pirate radio station in addition to his satelite uplink and radio stations broadcasting his shows all over America even though the story makes no sence and he only broadcasts via satelite uplink and has no FM radio stations that he himself operates.
Sponset
Doner

Din donasjon er nødvendig og hjelper med å bringe hangmansnews.com til deg hver dag! Arbeidet vi gjør for deg, er bare mulig gjennom din støtte!
For å donere bitcoin, skann QR-koden eller kopier og lim inn bitcoinlommebokadresse:

3P3N7fK56CQwxMbjzdoF3UhKc8bb5Vg7df




Takk!
---
Disclamer: hangmansnews.com bruker innhold fra 3. partys og er ikke ansvarlig for slikt innhold. 3. parts innhold som vises på denne nettsiden, vises her som en måte å få tilgang til dette tredje parts innhold. For eventuelle problemer, kontakt innholdsskaperne direkte. Denne nettsiden reagerer automatisk på innholdskapelagers spillelister og RSS-feeder. Ved å bruke dette nettstedet godtar du også coockie-politikken fra innholdsskapers plattform som YouTube. Vi bruker også statistikk plugins og muligens coockies samt sikkerhet plugins. Hvert hackingangrep vil bli blokkert og forbudt. Behagelig bruk denne nettsiden som bygger på frivillighet og gjensidig respekt som det er ment å bli brukt som en vanlig besøkende. Takk skal du ha.