Video: UN
[responsivevoice voice="UK English Female" buttontext="Listen to this"]
Saudi war planes attacked a school bus in northern Yemen on Thursday, August 9 2018, and hit the bus just as it passed through a crowded marketplace. At least 50 civilians were killed in the attack, of which 29 of the schoolchildren, 77 others were injured. According to the Red Cross, most of the dead children are under 10 years old.

Reporters on the spot express amazement that the bus was attacked since there are no military installations near the market. UN Secretary General António Guterres demands immediate investigation, as does the United States selling weapons to Saudi Arabia.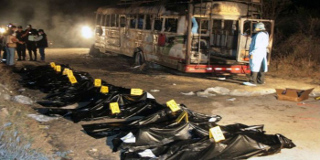 (C) Image: Antiwar.com
Are weapons produced in the West used to kill civilians, including children?
Whether or not weapons from western countries were involved in the attack are currently unknown. It is quite possible that weapons produced at Raufoss have been used to kill children in the inhuman war Saudi Arabia leads to Yemen.
This may happen despite the fact that Norwegian authorities have banished the sale of this type of weapon to the dictatorship.
The gun factory circumventes the rules by sending manufactured parts to the rocket to Germany where they are put together and resold to Saudi Arabia.
It is mainly the rocket engines that are made at Raufoss weapons factory.
Antiwar.com states: UNICEF issued a statement condemning the attack, saying there could be no excuses anymore, and that the world shouldn't need yet more innocent children's lives to stop the cruel war on children in Yemen.
When is the world going to wake up against these horrible terror acts performed by the governments, Saudi Arabia with the support of the USA, and say that enough is enough, you are now governments gone

rogue

, acting like terrorists and this stops right now?
[/responsivevoice]
Sources: